Policies¶
Policies are used in Lime CRM to control the read and write access to lime types and their properties.
Examples:
Only Adminstrators can create new coworkers.
Only members of the Finance group can edit the invoice total.
Members of Sales can read time reports, but only Consultants can create and modify them.
Policies provides the granularity below per user group:
| Denomination | Name | Description |
| --- | --- | --- |
| R | Read | Gives read access to a table or field. Without this access a user cannot see the field or table |
| W | Write | Makes it possible to modify existing data in a table/field |
| A | Add | Makes it possible to add new records in a table |
| D | Delete | Makes it possible to delete records in a table. |
Policies are managed in LISA under the "Security -> Policies" node.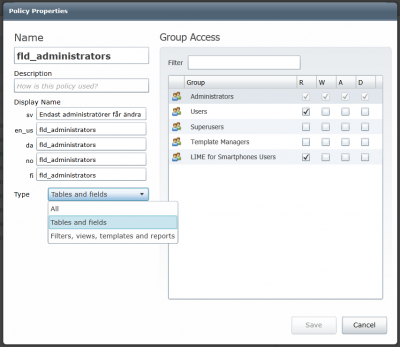 Additionaly, the Lime CRM Desktop client uses policies to control:
Filters
Views
Templates
Reports